FIVE POINTS PARK 100 CENTRAL AVE.
Capture Holiday Magic
Are you ready to step into a winter wonderland of holiday enchantment? Look no further than Downtown Sarasota's annual Christmas Tree Lighting, a heartwarming celebration that promises to kindle the holiday spirit and create cherished memories. Mark your calendars for Thursday, November 30th, from 6 to 8 PM, as Selby Five Points Park becomes the backdrop for a magical evening of joy, music, and festive lights.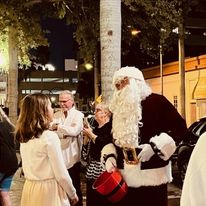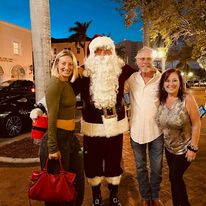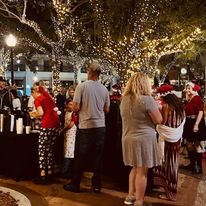 A Night to Remember: Join us in the heart of Downtown Sarasota, as the Selby Five Points Park transforms into a holiday haven, complete with the majestic centerpiece—the dazzling Christmas Tree. This beloved tradition, hosted by the Sarasota Downtown Merchants, is a testament to the community's spirit of togetherness and festive cheer.
Festive Delights Await: As you step into the park, be prepared to indulge your senses with delightful treats and refreshments that add an extra touch of warmth to the chilly evening air. The air will be filled with the sounds of joyful melodies, enhancing the atmosphere and creating a truly immersive holiday experience.
FIVE POINTS PARK
Photo Moments with Santa
Glimmering Illumination: At 7 PM, prepare to be captivated as the Christmas Tree comes to life in a dazzling display of twinkling lights. The moment when the tree is lit is nothing short of magical, and it's an experience you won't want to miss. So have your camera ready to capture the brilliance as the tree illuminates the night sky.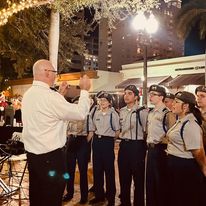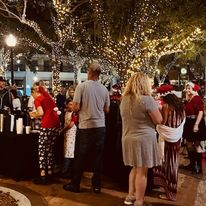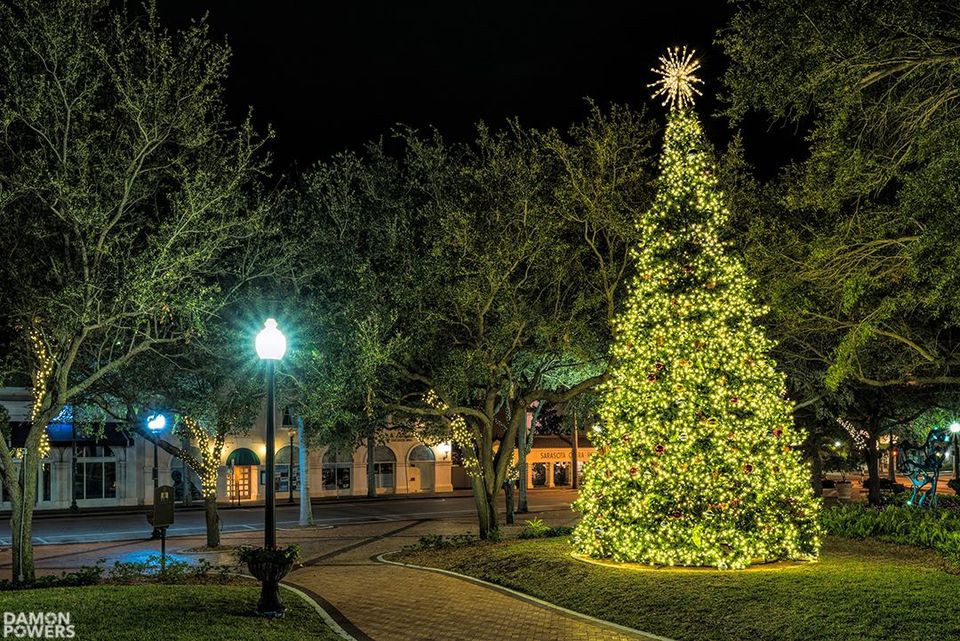 A Downtown Tradition: The Christmas Tree Lighting event is more than just an evening of festivities; it's a cherished tradition that brings the community together in celebration of the holiday season. This event symbolizes the unity and joy that the holidays bring, creating a sense of connection that warms the heart during the colder months.
Capture the Moment: For a sneak peek into the enchanting world that awaits you, check out our video here. The video showcases the heartwarming moments that have made this event a beloved staple in Downtown Sarasota's holiday calendar.
Plan Your Visit: The magic unfolds on Thursday, November 30th, from 6 to 8 PM at Selby Five Points Park, located just across the street from the Selby Public Library. Remember to bring your holiday spirit, your camera, and your loved ones as we come together to light up the night and create lasting memories.
Capture the Moment: Don't miss out on this unforgettable holiday experience. For a glimpse of the magic that awaits, check out this captivating photo by Damon Powers Photography: Damon Powers Photography
Contact Information: For further details and inquiries, please contact: Laura Kresl, Secretary DSEA
As we eagerly await the twinkling lights and the joyous melodies, let's come together to celebrate the most wonderful time of the year at Downtown Sarasota's enchanting Christmas Tree Lighting event. See you